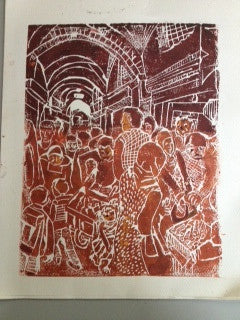 Defend Jerusalem Old City Wall Print
A lino cut print original of the beautiful old city of Jerusalem, increasingly hemmed in by Israel's architecturally and culturally insensitive European-style high-rise buildings. Jerusalem has been the site of a huge ethnic cleansing programme, removing the Palestinian Muslim and Christian citizens from this very centre of Palestine's heritage.
As these are originals, they vary in colour and a little in imagery. All are made on recycled paper.

Size approx 29cm x 24cm